Family Dentistry in Midland, Texas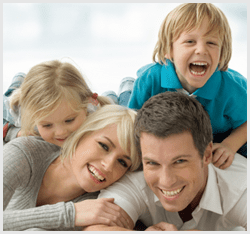 Your dental health can remarkably influence your overall health. Many researchers have proven that heart diseases, diabetes, and other health problems can be linked to your dental health. Therefore it is crucial for people of all age groups to protect their teeth and gums, not just to have a healthy smile, but to also lead a healthier life. American Dental Association recommends that people visit a dental practice at least twice a year. These periodic dental visits help families to lead a life free from dental infection. Family dentists in Midland identify early signs of dental infection and take necessary steps to cure the same. At our dental office, Drs. Chet & Wesley Gray & their families aim at providing preventive dental care to every patient who walks in. Through our commitment and dedication, we have successfully improved the oral health of many families living in Midland and surrounding communities of Texas.
The need for a family dentist in Midland
A family dentist is a professional who treats patients of different age groups. The dental needs of patients vary with age group. The food habits, the lifestyle, and the overall health can have a considerable influence on the oral health of a person. Therefore people of different age groups have to be taken care of differently when it comes to their dental health. Family dentists in Midland can understand the needs of children, teenagers, adults and older adults. Long-standing association with the family normally gives family dentists an advantage over other dental care providers. Patients who are associated with a dentist for many years can feel more comfortable when seated in the dentist's chair. A family dentist can easily identify if there are any genetic causes for oral health issues of patients since each patient and other family members are well-known to the dental professional.
Family Dentistry in Midland With Preventive Care
During a routine visit to the family dental office, our dentist performs a thorough examination of your oral health. This helps us in finding signs of tooth decay, gum infection and other problems that may need immediate attention. A professional dental cleaning may be recommended. If there is decay of infection is spotted, necessary steps are taken to restore the tooth. Fluoride application, application of sealants and other steps may be taken during the visit. Our dentist will also recommend changes in diet and oral hygiene habits if necessary. This can help improve the oral health of patients and prevent dental problems.