What Separates All-on-4 Dental Implants From Traditional Dental Implants?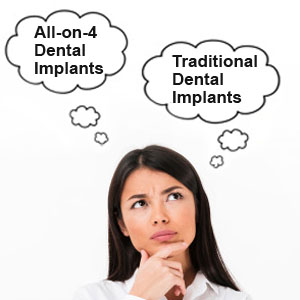 One of the most successful procedures in dentistry is dental implants. This treatment is done to correct one or even the entire arch of teeth. Your dentist will select the strongest bone, which is the most resistant to atrophy, and then precisely angles the implants for the insertion of your new artificial teeth. But one must be educated enough to discover the differences between all-on-four-dental implants and traditional dental implants. This will enable them to handpick the appropriate treatment option for them. In our previous blog, we have explained 5 reasons to choose dental implants in Midland for your missing teeth. Read on to learn more about their differences.
All-On-4 Dental Implant in Midland:
The All-on-4 dental implants are done to replace the entire set of teeth. This could either be the top set or lower set. In this treatment, the implants are well-placed at a certain angle on the jaw bone and only 4 in number. After the placement, the implant supports one or a couple of dentures for complete function and usage.
Are All-on-4 Dental Implants Unique?
Yes, when compared to traditional dental implants all-on-four dental implants are very different in many ways. In this treatment, our dentist in Midland perfectly planned and placed the implant so that there is room for good contact between the bone and implant.. This all-on-4 dental implant treatment allows patients to avoid bone grafting, which is sometimes required when standard dental implants are placed.
Traditional Dental Implants in Midland:
This treatment is a very adaptable and flexible treatment to replace missing teeth. Here dental crowns are used and are placed inside the mouth, on a count of five or more per arch. This is a long process especially if bone grafting surgeries need to be done. The healing time is longer as the jawbone and the implant have to bond before the crowns are placed.
Choosing Dental Implants: All-on-4 or Traditional?
Both the treatments produce similar effects. The best treatment for each patient will be based on their individual needs. For patients who have had considerable bone loss due to long-term tooth loss, bone grafting and sinus augmentation may be required before standard dental implants treatment in Midland can be implanted.
These patients may benefit from all-on-4 dental implants, which can often be placed without the use of grafts. Patients who want to avoid a lengthy recovery may consider all-on-4 dental implants because they reduce the number of implants required to support a full set of upper or lower dentures, minimizing surgical and recovery time.
Conclusion:
At Gray Cosmetic & Family Dentistry, Dr. Chet K Gray and Wesley D. Gray and the team of dentists they lead, listen to every patient's wants before they decide on the all-on-4 or traditional dental implants in Midland. If you live in or around Midland, schedule an appointment with Dr. Chet K Gray or Wesley D. Gray. Get yourself treated by the best dentist today. Browse through our website or dial us at 432-694-5741 to gather more information right away.
---